The first holiday lodge is now in full swing at Dandy's Ford and we are all very excited. Dandy's will be keeping you all updated with regular pictures and news of the holiday lodges progress.
New Fish for Lodge Lake
A fine day for delivery of 400 new Tench to the lakes. These fish have been bred specially for release into coarse fisheries. At up to 8 inches (200mm) in length and about 2 years old they are the fish of the future for the anglers at Lodge Lake.
These little beauties will grow to be specimen fish within three years and should ultimately achieve weights of around 5 - 6 lbs.
They are delivered en masse by the breeders and are carefully weighed on arrival and released into the lake with care.
The tench is actually a member of the Carp family and is a highly prized fish for the budding coarse fisherman. But please don't take our word for this, click on this link to find out more about the Tench.
Tench Fishing
Here's what the Maggot Drowners have to say about methods of catching Tench.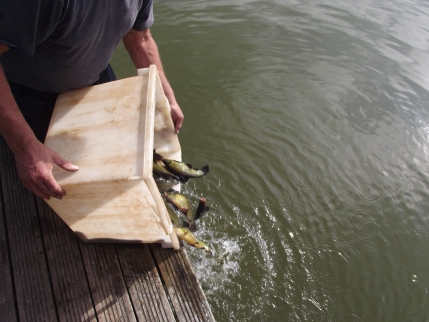 In you go, you little beauties!